30 Jan

Expand your brightness – Tool Review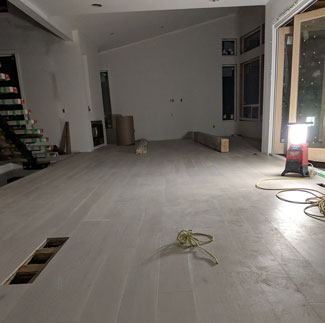 Today I am going to talk about a tool that has helped our company out A LOT during our short and dark winter days.
The product I'm talking about is a light by Milwaukee model number 2150-20 m18 radius led site light.  We all know how frustrating it is when you're on a deadline and the winter hours and short days come rolling in.  A lot of the times we have to pack up early because it's too dark to work and the light we have on site is just not enough.  All these early days off cause our company to get way behind schedule, which is not good for us and most importantly not good for our clients. I decided to do some research on what would be our best option to work as long as we could during winter hours/days.  During my research I found the Milwaukee light and read a lot of very good reviews. I would have to say this light is money well spent! This light has made it possible to work past 4:30pm!
Yes, I said it! Past 4:30pm! (Unfortunately that is when it gets close to pitch dark right now) We used the Milwaukee radius light at one of our custom homes so that we could continue tiling the floors and get a full days work in.  Once we got the light set up and turned on, it had 360 degrees coverage of the area, which made it really easy to work in the dark.  It provides roughly 8x the amount of light then the jobsite lights that we have been using in the past.  The good thing about this light is that if you have power where you are working, you can plug it in with an extension cord or if you don't have power you can use 2  -m18 9.0 batteries.
Also you can allow other users to connect up to 6 lights off of a single circuit. There are many other advantages such as the one key system Milwaukee offers. This helps you track where your light may be located and customize the light settings. Also, has a built in charger to charge 2 batteries simultaneously.   The con's about this light is that it 's on the heavier side, it weighs in at 28lbs but, having said that, the weight along with the rubber feet gives for a very stable lamp.
Another downside is the price of this light. At almost $900.00 CAD without batteries this price point may be hard for contractors to justify spending.  Overall I would say this light is one of the most convenient cordless job site lights I have ever worked with!