30 Jan

8 questions to ask your potential contractor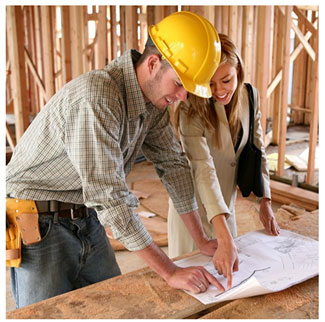 When you're ready to build your dream custom home, it's important that you work with a builder that will be your partner in helping you build a home that meets your goals and reflects your personality.
It goes without saying that you will want to work with a reputable builder, but in your search for the right contractor, here are 8 questions to be sure you find the right one.
1. Is your contractor licensed and insured in the city you want to build in?
This may seem obvious, but make sure the builder you choose is licensed and insured in the city you're building your new home. It's also important to talk about the insurance the builder is carrying and what specifically will be covered throughout the process.
2. Who chooses the subcontractors?
A builder typically has experience working with a set team of subcontractors, which makes for a smoother process and a better working relationship overall. If there's a specific subcontractor you want to use, tell your builder up front and get their thoughts on the matter.
3. How long has the contractor been building in the area?
Choose a qualified reputable builder who has been building in your area for no less than five years. The experienced builder will know the area landscape, storm drainage, property boundaries, property values, sewer and water locations, electrical power and natural gas availability, traffic patterns, building codes and inspections, and the neighbourhood desirability.
4. Does your contractor have references and previous builds to walk through?
This is perhaps one of the most important questions to ask a contractor. If a contractor is proud of their work and has a good reputation, they should have no problem arranging for you to see a completed project. Not all contractors have vacant homes for potential clients to see, but they may have current or previous customers who are willing to let you walk through to check out the builder's craftsmanship and finish work and speak with their past clients to find out about their experiences with the builder.
5. How much customizing can be done? Can features and finishes be upgraded?
This question could have any number of answers, depending on the builder, and it all comes down to your preferences. But with us, the sky is the limit on a custom build. We'll essentially be building your house on paper first, working through all of the details and making every selection that you and your family want, and from there we can pinpoint an exact cost for your home.
6. How much value does your contractor put towards service in their company?
Note how attentive, knowledgeable and professional their employees are. Do you trust them and feel comfortable enough to work with them throughout the building process? And do they have a system in place to handle service requests during, and after, construction? Keep in mind, when issues arise, a good builder addresses them promptly, correctly and professionally.
7. How does the contractor manage the construction of your home?
It's definitely not uncommon for contractors to have multiple projects happening at the same time. While this isn't necessarily a problem in and of itself, you should be sure to ask if they have a plan in place to manage everything. How will you be kept informed on progress? Will you be speaking with the builder or a project manager? Who is on site—the builder or a supervisor? You'll want to know what to expect in terms of communication and updates, which actually leads us to the next question.
8. Should you hold back on asking any questions?
NO! Never be afraid to ask questions. This might be the first time you've built a custom home, and no one enjoys appearing uneducated. But, building a custom home is a huge investment of both your money and time. A good contractor is not only willing to answer even your most ridiculous questions, but will encourage you to ask them as well. Understands the importance of communicating at every step of the project Quality custom home builders understand that clear, ongoing communication is vital to a stress free building project